Today sees the start of a new fortnightly challenge over at
Forever Friends
. Wow, this last two weeks has gone by far too quickly. Our theme for this challenge is
'Use your favourite embellishments'
.
We have two fab sponsors for this challenge.
Whoopsi Daisy Digis
and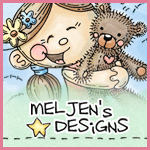 Meljens Designs
.
Just pop over to
Forever Friends
for full details of the great prizes on offer and to upload your entries for the challenge. You can also check out the wonderful creations from the design team.
My favourite embellishments are ribbon, flowers and gems. I was also fortunate enough to be able to use an image from each of our sponsors for my creations.
I used a Whoopsi Daisy pre coloured image for this card. Kept it quite simple as I thought the image was just too pretty to overpower with embellishments.
I would like to enter this into the following challenges:
Cards Galore
- Anything goes
Lexis Creations
- Anything goes
OSAAT
- Anything goes
Allsorts
- Dies and punches
Bunny Zoes
- Anything goes
For my second project I used an image from Meljens. I treated myself to this Martha Stewart punch around the page punch recently. I have seen so many cards done using these punches to make a border and wanted to have a go. I really enjoyed making this and love the effect of the punched edge. So more Martha Stewart punches are now on my wish list lol.
I would like to enter this into the following challenges:
Natalie and Amy
- Your favourite things (ribbon, flowers)
One Crazy Stamper
- Anything goes
Disdigidesigns
- Try something new
Pretty Little Ribbon
- Flowers and ribbon
Top Tip Tuesday
- Fur or feathers
Inky Impressions
- Add a sentiment
Little Miss Muffet
- Winter birthdays
Totally Papercrafts
- Ribbon
Chocolate, coffee and cards
- For the birds
The Squirrel and The Fox
- Anything goes
Thanks for popping by and looking forward to seeing all your entries.